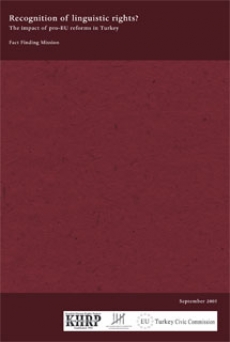 Recognition of linguistic rights?
This report presents the findings of a fact-finding mission to Turkey sent by Kurdish Human Rights Project (KHRP) and the Bar Human Rights Committee of England and Wales (BHRC) in July 2005 to investigate the current status of protection for linguistic rights. The mission held numerous interviews including with representatives of human rights organisations, media, bar associations, political parties, unions and organisers of linguistic courses.

The mission investigated the practical implementation of linguistic rights and mother tongue legislation enacted by the Turkish government in an effort to meet EU pre-accession criteria. The mission examined the efficacy of the new language courses in Kurdish, as well as assessing overall linguistic freedom and the progress of court cases against high profile unions.

The mission found that despite claims by the Turkish Government that reforms now allowed for linguistic freedom, the actual implementation of these reforms was scattered and ineffectual in practice. Other laws were often used to thwart the limited progress made by liberal reforms. Some of the new legislation was found to be actually more restrictive in practice than previous legislation. Overall, linguistic rights are still severely limited in Turkey, and the expression and use of these rights often invites scrutiny, suspicion and legal harassment from the authorities.

Kerim Yildiz
Executive Director, KHRP

Mark Muller
Vice-Chair, BHRC

Kariane Westrheim
Chair, EUTCC