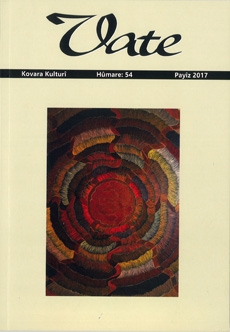 Vate, n° 54

Deniz Gunduz

Vate

Înşalah ti baş î. Mamostayê ma ewro ma ra va ke "Yew embazê xo rê mektube binuse, kam ke ho dûrî de ey rê binuse." Badê cû sewbîna çîyî zî va, labelê mi ucayî zaf goşdarî nêkerd. Dûrî de embazê mi çin î, ti ameyî vîrê mi, dûrî de tena ti estî.
Dîyarbekir dûrî yo Yaqûb?

Mi gore dûrî yo willayî. Çunke şima tena hamnanan yenî dewe, eke nêzdî bîyêne şima zimistanan zî ameyêne, belkî ez zî ameyêne uca. O semed ra ez ha to rê nusena. Mi kesî ra nêvat, înşalah Umer zî to rê nênuseno. Eke mektuba mi rind bo, mamosta dano postexaneyî, to rê şaweno. Ti zî mi rê binuse Yaqub, beno?

Ti zanî Yaqûb, pîyê mi zî ho Dîyarbekir de, a roje pîrika mi va. Y ew roja ke vewre vareyêne pîyê mi ma rê yew fotografê xo şawit, yew zî yew qert. Serê qertî de banî estî, çi nêmanenî banê ma. Her ca zî kesk o, mi ê darî hema newe dî. Mi qert û fotografê pîyê xo girewt, mîyanê defterê xo de nimit. Wexto ke ti ...