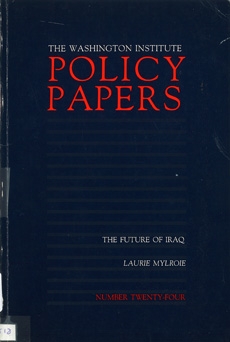 The Washington institute
Policy Papers, n° 24
The Future of Iraq

Laurie Mylroie

The Washington Institute
For Near East Policy

This section seeks to answer two questions. First, what are the institutions by which Saddam Hussein rules Iraq? And second, can any of them provide the basis for a future government in Iraq that is neither belligerent to its neighbors nor so abysmally abusive of its own population's human rights that the United States cannot deal with it.
The Ruling Family And The Security Services
Iraq is ruled by a narrowly-based elite, linked by family and clan ties. Power lies with Saddam Hussein, supported by his close relatives, who hold the key positions. They are backed more broadly by Sunni Arab clans from the region north of Baghdad between the Tigris and Euphrates rivers. Saddam's home town of Takrit lies in that area and constitutes the center of...
---
Laurie Mylroie is a Bradley fellow at The Washington Institute, visiting from the Center for Middle East Studies at Harvard University. She is the author, with Judith Miller, of Saddam Hussein and the Crisis in the Gulf.
The opinions expressed in this Policy Paper are those of the author and should not be construed as representing those of The Washington Institute for Near East Policy, its Board of Trustees or its Board of Advisors.