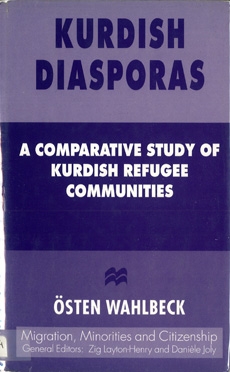 Kurdish Diasporas

Östen Wahlbeck

University of Warwick

An important theoretical contribution to the area of refugee studies, this book is based on ethnographic fieldwork among Kurdish refugees in the UK and Finland. The author has uniquely combined empirical evidence and contemporary sociological theories of diasporas and transnationalism. Vivid ethnographic material is used to introduce new arguments about the process of integration among refugees. The author argues that a study of refugee communities needs to take into account the refugees' relation to both the country of origin and the country of settlement. The concept of diaspora is used to depict the transnational social reality which characterizes the refugee communities. The book provides essential reading for anybody looking for a comprehensive view of refugee resettlement issues and it will be of special interest to anyone concerned with the topical Kurdish question.
---
Östen Wahlbeck received his doctorate in 1997 from the Centre for Research in Ethnic Relations, University of Warwick. At present he is Acting Professor of Sociology, Abo Akademi University and a Research Fellow at the Institute of Migration, Turku, Finland. He has extensive experience of refugee-related research and has written several articles and reports on refugee questions.