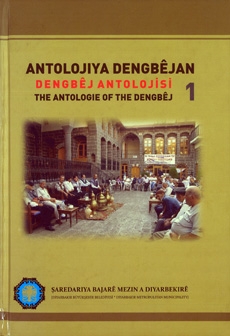 Antolojıya Dengbêjan
[Dengbêj Antolojisi - The Antologıe of the Dengbêj] - I

Azad Zal

ŞBMD

Bi vê xebatê armanc; parastin, danasîn û veguhestina ji bo nifşên nû ya kevneşopiya dengbêjiyê ye. Ev kevneşopiya ku beşeke girîng a çanda zargotinî ya kurdan e, di heman demê de hêmaneke girîng e ku hem derheqê jiyana civakî ya gelê kurd a berê de agahiyan di nava xwe dihebîne, hem jî wêjeya devkî ya kurdan parastiye û gihandiye roja me. Ev kevneşopiya ku ji hemû hêlên jiyanê dîmenan di nava xwe de dihebîne, vegotina jiyanê ya bi çavê civaka kurd e...
---
Bu çalışmayla, Dengbêjlik Geleneğinin korunması, tanıtılması ve gelecek kuşaklara aktarılması hedeflenmiştir. Sözlü Kürt Kültürünün çok önemli bir parçası olan bu gelenek, hem yerleşik yaşam öncesi Kürt halkının sosyal yaşamını hem de yazılı dönem öncesi Sözlü Kürt Edebiyatı'nı günümüze taşıyan bir unsurdur. Yaşamın her alanından kesitler içeren bu gelenek, Kürt toplumunun gözünden yaşamı anlatmaktadır...
---
With this work, it is aimed to protect, represent and transfer the Tradition of Dengbêjî to the future generations. This tradition that is a very important part of Oral Kurdish Culture is a factor transfers both the social life of the Kurds before settled life and the Kurdish literature before the written age. This tradition contains examples from all parts of life tells life from the viewpoint of Kurdish society...