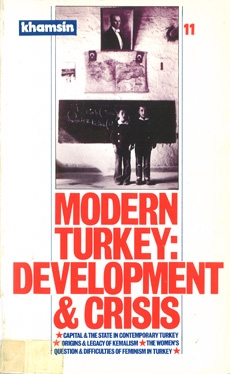 Khamsin - 11
Modern Turkey: Development & Crisis

Turgut Taylan

Khamsin


Turkey is almost a terra incognita to the left, not only in the West but even in neighbouring Middle-Eastern countries. This collection of essays will help to fill the information gap. The essays, most of them written by prominent Turkish activists and intellectuals, provide an informative and critical account of Turkey's economic and political development since the foundation of the Turkish Republic. The experience of the workers' movement and the socialist left, as well as the feminist movement, are subjected to searching evaluation.
---
Khamsin is a hot desert wind which blows in the Middle East for fifty days each year. For many years a scorching wind has been blowing continually over the Middle East...
Khamsin is a journal published by revolutionary socialists of the Middle East. It is also for them, and for socialists in other countries who are interested in that part of the world.
Khamsin is a committed journal. It aims not merely to reflect and express, but also to be part of the struggles for social liberation and against nationalist and religious mystifications.
All these struggles:
- That of the Arab popular masses against imperialism, Zionism and the Arab ruling classes;
- That of the Palestinian people, the most direct victims of Zionism, against their national and social oppression;
- That of the anti-zionist left inside Israel;
- That of the labouring classes in all the countries of the Middle East against 'their own' exploiters, and against oppressive class regimes throughout the region;
- That of women throughout the region against their oppression and exploitation as women;
- All these are inseparable aspects of one struggle, whose goals can be achieved only through the revolutionary overthrow of imperialist domination, the Zionist power-structure and all the existing regimes in the region, and the establishment of a united socialist Arab world, within which the non-Arab nationalities will also enjoy, by right and in fact, full social equality, individual liberty and national freedom.
The members of Khamsin collective, from various countries of the region and belonging to different political tendencies, are united round this aim. However, Khamsin is not a political organ but a forum in which aims themselves, as well as the strategy for achieving them, can be debated and discussed ' among the various shades of revolutionary left opinion.