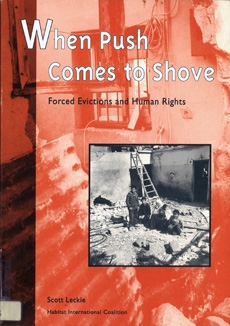 When Push Conies to Shove

Scott Leckie

Habitat International Coalition


The often violent practice of forced eviction affects many millions of persons throughout the world every year—for reasons of misguided development, ethnic cleansing, urban beautification programmes and on grounds of pure speculation. While everyone would agree that compelling individuals, families and entire communities to leave their homes is a particularly inhuman act, the urban and rural poor, children, women, and members of ethnic, racial and indigenous groups continue to face forced evictions, the destruction of their homes, the decimation of their lives and livelihood and the violation of their human rights.
In When Push Comes to Shove, Scott Leckie examines the position taken by international human rights law on forced evictions and has designed the study primarily for non-lawyers concerned with the human rights dimensions of the forced removal of people from their communities. International human rights law has taken an increasingly clear approach towards forced evictions, widely condemning them as gross violations of human rights.
Consistent with this perspective on the essential illegality of forced evictions, Habitat International Coalition (HIC) continues to broaden its support of communities threatened by pending forced evictions, at the local, national and international levels. As a core component of HIC's ongoing international campaign against forced evictions, launched in 1989, delegations of HIC regularly represent affected communities within the various human rights organs of the United Nations. Through this representation, HIC has assisted in encouraging the UN to undertake a now extensive series of measures devoted to curtailing this practice.
When Push Comes to Shove provides a succinct analysis of the many legal and other considerations associated with forced evictions set within an international legal framework. The study also details a range of international measures for eviction avoidance which should be undertaken as further safeguards against this practice, including the adoption of an International Convention on Housing Rights and the appointment of a UN Special Rapporteur on Forced Evictions.
Scott Leckie acts as legal advisor to Habitat International Coalition and represents HIC at the United Nations. He is also co-Director of the HIC-affiliated Centre on Housing Rights and Evictions (COHRE).