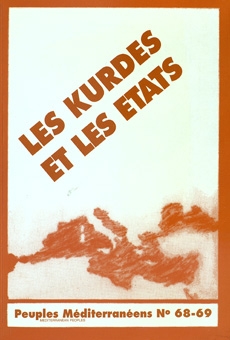 Les Kurdes et les Etats

Martin van Bruinessen, Hosham Dawod, Hans Lukas Kieser, Joyce Blau, Karin Kren, Anne Vega, Abbas Vali, Maria T. O'Shea, Hamit Bozarslan, Robert Olson, David Mc.Dowall, Akil Marceau, Fawwaz N. Traboulsi

Peuples médıterranéens

Revue trimestrielle, Peuples méditerranéens-Mediterranean Peoples est bilingue (français-anglais), chaque article comporte un résumé dans l'autre langue de la revue. Les manuscrits adressés à la rédaction ne peuvent excéder 30 feuillets dactylographiés de 2 500 signes. Ils doivent également, dans la mesure du possible, être remis sur disquette macintosh. Ecrits en français ou en anglais, ils doivent être commu-niqués en deux exemplaires et résumés en 1 000 signes au maximum, si possible dans l'autre langue de la revue.

The quarterly journal Peuples méditerranéens-Mediterranean peoples is bilingual (french-english), each article being summarised in the other language of the journal. Manuscripts sent to the Editors should not exceed 30 typed pages about 360 words each. As much as possible, they have to be submitted on macintosh disk. Written in french or in english, they should be made out in two copies, with a synopsis, if pos¬sible, in the other language, not exceeding 120 words.