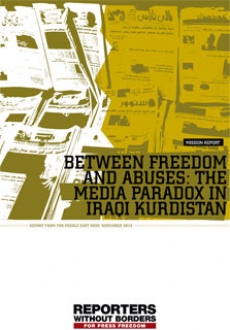 Between Freedom and Abuses: The Media Paradox in Iraqi Kurdistan

Within the last two years, two journalists were murdered in Iraqi Kurdistan: Soran Mama Hama in July 2008, and Sardasht Osman in May 2010. Many other journalists have endured threats and assaults on a daily basis, though nothing as bad as what journalists in the rest of Iraq have suffered since 2003.

Soran Mama Hama was murdered in Kirkuk, which is not officially part of the Iraqi Kurdistan but the fact that he was living in Sulaymaniyah and working for the independent magazine Lvin is enough to qualify him as one of the victims of the abuses being committed against journalists in Iraqi Kurdistan.

Apart from acts of violence, journalists must deal with a widespread lack of access to information and abusive use of the Iraqi Penal Code to try press offences.

Since journalist Sardasht Osman was assassinated this past May, the distrust – even suspicion – between one element of the region's political class and some journalists, has only increased. It will be up to government leaders to work towards reconciliation with the press...