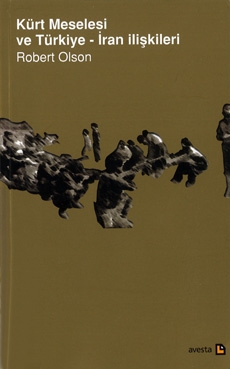 Kürt Meselesi ve Türkiye - İran ilişkileri

Robert Olson

Avesta


Bu çalışma, Kürt meselesine, Birinci Dünya Savaşı'ndan beri Türkiye-iran ilişkileri için tehdit oluşturan Kürt milliyetçiliğinin devletlerarası boyutlarına odaklanmaktadır. Kitapta daha çok iran-lrak savaşı (1980-88) ile Körfez savaşı (1991) dönemi üzerinde durulmakta ve Kürt meselesinin Kürt sorununa etkisi, Kürt milliyetçiliğinin hem Türkiye hem de İran'ın iç politikalarına etkisini ele almaktadır.

Yazar, Kürt meselesinin ve Kürt sorunun etkisinin Türkiye ve İran için hayati olmasının yanı sıra 1984'ten beri Kürdistan işçi Partisi (PKK) ile mücadele eden Türkiye için olağanüstü bir öneme sahip olduğu sonucuna varıyor, Türkiye'nin geçen on yıl içinde izlediği politikalarında Kürt meselesinin egemen olduğunu savunuyor Körfez Savaşı Türkiye'nin dilemmasını daha da şiddetlendirdi.

Kürt faktörü, Türkiye-iran ilişkilerinin çerçevesinin şekillendirilmesi için uzun bir zaman temel bir değişken oldu ve olmaya devam ediyor Robert Olson; bu dengeli, çok bilgili, titizlilikle arama çalışmaları yapılan bu kitapta önemi giderek artan bu konuyu anlamamız için değerli ve zamanında katkılar yapıyor.

Nader Entessar, Spring H, Kürt meselesinin 20. yüzyıl Türkiye-İran ilişkileri üzerine olan bu bilimsel ve zekice çalışma, konuyla ilgili bugüne kadarki en etraflı çalışma. Modern Ortadoğu alanındaki araştırmacıların ve öğrencilerin okuması gereken bir kitap.


---

Robert Olson - Kentucky Üniversitesinde Ortadoğu Tarihi ve Siyaseti Bölümü profesörüdür. Arapçaya çevrilen (1983) The Siege of Mosut and Ottoman-Persian Relations, 1718-1743: A Study of Rebeilion in the Capital and War in the Provinces of the Ottoman Empire (1975); The Ba'th and Syria, 1947-1979: An Interpretative Historical Essay (1980); The Ba'th and Syria from the French Mandate to the Era of Hafez at-Asad, 1947-198211982)-, Türkçe (1989), Farsça (1999), Kürtçe (2000) ve Arapçaya (2008) çevrilen The Emergence of Kurdish Nationalism and the Sheikh Said Rebeilion: 1880-1925)1989); (ciltsiz kitap) The Emergence of Kurdish Nationalism (1991); Imperial Meanderings and Republican By-Ways, Essays on Eighteenth Century Ottoman and Twen-tieth Century History of Turkey (1996); yeniden gözden geçirilip; The Kurdish Question and Turkish-lranian Relations: From Vforld War I to 2000 (2001) adıyla Arapçaya çevrilen, Masale Kurd va Revabet-e Iran va Turkiye / The Kurdish Question in Turkish-lranian Relations in the Twentieth Century adıyla Farsçaya çevrilen The Kurdish Question and Turkish-lranian Relations: From World War I to 1998 (1998); Türkçe (2005) ve Online Fransızcaya çevrilen (2005) Turkey's Relations with Iran, Syria, Israel and Russia, 1991-2000: The Kurdish and Islamist Questions (2001)'nın yazarıdır. Turkey's Relations with Iran, 1979-2004: War, Revolution, Ideology, War, Coups and Geopolitics (2004) Türkçeye çevrildi (2005). The Coat and the Butcher: Nationalism and State Formation in Kurdistan-lraq since the lraqi War (2005 Türkçeye çevrildi (2008). Editörü olduğu eserler: Islamic and Middle Eastern Societies: A Festschrift in Honor of Wadie Jwaideh (1987); The Kurdish Movement in Turkey in the 1990s: Its Impact on Turkey and the Middle East (1996); Ortak-editör: Orientalism, İslam and Islamists (1985), Türkçeye çevrildi (1992) ve Iran: Essays on a Revolution in the Making (1981).

Profesör Olson yaklaşık 90 araştırma makalesi, 80 makale ve referans eseri ile 210 kitap tanıtımının yazarıdır. 1999-2000'de Üçüncü Dünya Araştırmaları Derneği tarafından "En İyi Kitap Ödülü"nü aldı. 1999-2000'de Albert B. ve Eli-zabeth H. Kirwan Üniversite Profesörü olarak seçildi. College of Arts and Sciences'ta da Seçkin Profesör olarak bulundu (2000-01).