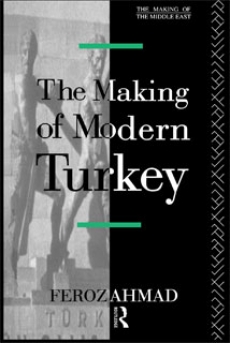 The making of modern Turkey

Turkey had the distinction of being the first modern, secular state in a predominantly Islamic Middle East. In this major new study, Feroz Ahmad traces the work of generations of reformers, contrasting the institution builders of the nineteenth century with their successors, the 'Young Turks', engineers of a new social order.
Written at a time when the Turkish military has been playing a prominent political role, The Making of Modern Turkey challenges the conventional wisdom of a monolithic and unchanging army. After a chapter on the Ottoman legacy, the book covers the period since the revolution of 1908, examining the processes by which the new Turkey was formed. Successive chapters then chart progress through the single-party regime set up by Atatürk, the multi-party period (1945–60) and the three military interventions of 1960, 1971 and 1980. In conclusion, the author examines the choices facing Turkey's leaders today. In contrast to most recent writing, throughout his analysis, the author emphasises socio-economic changes rather than continuities as the motor of Turkish politics.