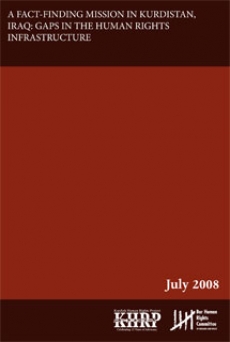 A FACT-FINDING MISSION IN KURDISTAN, IRAQ: GAPS IN THE HUMAN RIGHTS INFRASTRUCTURE
Prior to conducting the series of fact-finding missions that form the basis of this report, KHRP last sent a mission to Kurdistan, Iraq, in 2003, shortly after the United States-led war against Saddam Hussein. This mission resulted in a detailed report entitled After the War: The Report of the KHRP Fact-Finding Mission to Iraqi Kurdistan (KHRP, October 2003). This focused on the humanitarian situation in the region, the ability of civil society organisations to engage in capacity building, the ongoing consolidation of the legal system and the building of a politically viable infrastructure, as well as the overall conduct of the occupation forces. The building of structures essential to human rights protection was underlined as being of paramount importance.

More than four years later, the situation in Kurdistan, Iraq, looks markedly different. The infrastructure, administration and legal system have all largely improved, with such relative stability making it distinct in an otherwise volatile region. A limited degree of economic prosperity and relative calm in Kurdistan, Iraq, have allowed the KRG to better concentrate on development. At the same time, the unification of much of the two administrations, the Patriotic Union of Kurdistan (PUK) with the Kurdistan Democratic Party (KDP), has served to ease long-standing tensions. However, as the missions learned, Kurdistan, Iraq, remains in a precarious and difficult position...