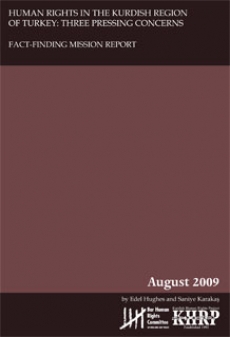 HUMAN RIGHTS IN THE KURDISH REGION OF TURKEY: THREE PRESSING CONCERNS FACT-FINDING MISSION REPORT
The Kurdish Human Rights Project (KHRP) organized a fact-finding mission to the Kurdish region of Turkey from 1 to 7 May 2009 to gather information on the human rights situation there, with a particular focus on impunity of state officials, women's access to justice and restrictions on the work of human rights defenders. The mission interviewed local MPs, mayors, human rights activists, lawyers and journalists in the provinces of Şırnak, Siirt, Mardin, Batman and Diyarbakır in order to assess developments in these areas in recent months.

Broadly speaking, the human rights situation in the Kurdish region of Turkey remains profoundly troubling. This fact was underlined in the aftermath of the local elections in March 2009, with the detention or investigation of hundreds of pro-Kurdish politicians and activists. It is also borne out by statistics prepared by KHRP's partner organisation İnsan Hakları Derneği (Human Rights Association of Turkey, İHD), which in the course of 2008 in the province of Siirt alone, recorded 77 reported cases of torture and ill-treatment and more than 380 instances of violationsof the right to freedom of expression.1 In addition to ongoing human rights violations such as these, the Turkish authorities have also continued to fail in their responsibility to effectively address the widespread abuses of the recent past. This issue was again brought to the fore in the first half of 2009 by excavations of wells alleged to contain the remains of some of the many who 'disappeared' at the height of the conflict in the region in the 1990s...