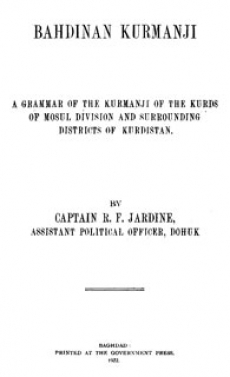 Bahdinan Kurmanji: A Grammar of the Kurmanji of the Kurds of Mosul Division and Surrounding Districts of Kurdistan

Kurds divide Kurdistan into five great divisions :
SORAN comprising roughly Sulaimania, Rania, and their neighbours on the north-east.
BAHDINAN with the greater Zab and Zakho Khabur separating it from the other four areas.
BOHTAN comprising the areas north and west of Zakho.
HAKKARI the areas nortli of the first three divisions.
MiLLi deriving its name from the tribe of that name, and west of the Bohtan division.

This work is an account of the dialect of Kurdish spoken in the second-named of these five divisions, the Bahdinan.

Although it professes to deal with only one dialect the book will be found to be almost of as much use to students of the Bohtan and Hakkari dialects as it may be to those working in the Bahdinan area itself.

For there is little difference in accidence and syntax between the dialect of Bahdinan and those of its immediate neighbours, including on the east, Ruwanduz and Neri. From the dialect of the Soran, however, and in particular, from that of Sulaimania, it differs considerably in accidence and syntax : and in forms of words other than those derived from Persian.

A difference is insisted on by the Kurds themselves to the extent of separating the Sulaimania dialect, which they call Kurdi, from the remaining dialects of Kurdish, which are called Kurmanji...