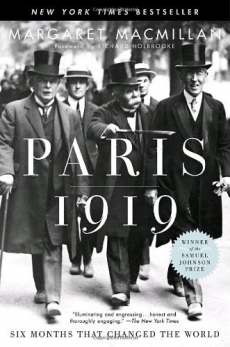 PARIS
SIX MONTHS THAT CHANGED THE WORLD
1919
Margaret MacMillan
Atatürk and the Breaking of Sèvres

At the beginning of May 1919, the fitful discussions about the Ottoman empire received an unwelcome jolt from Italian moves in Asia Minor. The Italians had landed forces in Turkey for brief periods during the winter, ostensibly to protect Italian nationals, or, on one occasion, a convent. Now their troops appeared to be settling in at the ports of Adalia (Antalya) in the south and at Marmaris, facing the island of Rhodes, both on territory that Italy was claiming under its wartime agreements. Reports came in of an Italian battleship at the port of Smyrna (Izmir) and on May 11 Eleutherios Venizelos told the Council of Four that Italian working parties were building jetties at Scala Nuova (Kuşadasi), slightly to the south. He also alleged that the Italians had done a secret deal with the Turks. The peacemakers were ready to believe the worst. "I am not inclined to let the Italians do what they want in that part of the world," said Wilson. "I distrust their intentions. If I published in America all that we know about their activity and intrigues, it would cause their infernal machine to hang fire."...