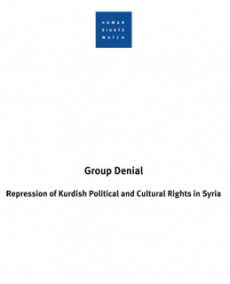 Group Denial: Repression of Kurdish Political and Cultural Rights in Syria

In March 2004, Syria's Kurds held large-scale demonstrations, some violent, in a number of towns and villages throughout northern Syria, to protest their treatment by the Syrian authorities—the first time they had held such massive demonstrations in the country. While the protests occurred as an immediate response to the shooting by security forces of Kurdish soccer fans engaged in a fight with Arab supporters of a rival team, they were driven by longsimmering Kurdish grievances about discrimination against their community and repression of their political and cultural rights. The scale of the mobilization alarmed the Syrian authorities, who reacted with lethal force to quell the protests. In the final tally, at least 36 people were killed, most of them Kurds, and over 160 people were injured. The security services detained more than 2,000 Kurds (many were later amnestied), with widespread reports of torture and ill-treatment of the detainees.

The March 2004 events constituted a major turning point in relations between Syria's Kurds and the authorities. Long marginalized and discriminated against by successive Syrian governments that promoted Arab nationalism, Syria's Kurds have traditionally been a divided and relatively quiescent group (especially compared to Kurds in Iraq and Turkey). Syria's Kurds make up an estimated 10 percent of the population and live primarily in the northern and eastern regions of the country.

The protests in 2004, which many Syrian Kurds refer to as their intifada (uprising), as well as developments in Iraqi Kurdistan, gave them increased confidence to push for greater enjoyment of rights and greater autonomy in Syria. This newfound assertiveness worried Syria's leadership, already nervous about Kurdish autonomy in Iraq and increasingly isolated internationally. The authorities responded by announcing that they would no longer tolerate any Kurdish gathering or political activity. Kurds nevertheless continued to assert themselves by organizing events celebrating their Kurdish identity and protesting anti-Kurdish policies of the government.