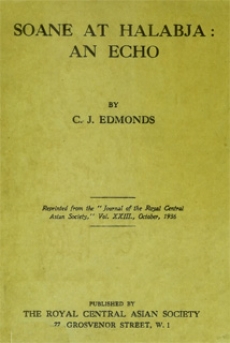 SOANE AT HALABJA: AN ECHO

There has just (1936) been published at Sulaimani a small collection of poems, in Kurdish and in Persian, by Tahir Beg Jaf, a poet of some repute among the Southern Kurds. The following is an extract from the introduction in Kurdish :

Tahir Beg, the well-known, celebrated, melodious and word-sweet poet, was the son of Osman Pasha, son of Muhammad Pasha, Jaf. The stock and family of the Jaf Begzadas were accounted among the great and celebrated Kurdish Amirs. One hundred and fifty years ago they held the chieftainship of the Jaf tribe. Later, on the encourage ment of the Babanf Government, they came to Sharazur, and from the time of the Baban Government until the formation of the 'Iraqi Government they continued to hold the leadership of the Jaf...