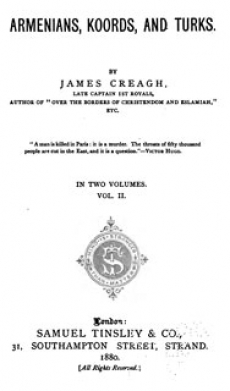 ARMENIANS, KOORDS, AND TURKS
THE KOORDISTAN HIGHLANDS
As it was my opinion, (which everything occurring since only confirms more and more,) that the very instant the Russians crossed the Pruth, England ought to have declared war, I have felt a peculiar interest in the action we might then have taken in Asiatic Turkey.

Trusting in England, looking to England, believing in England, the whole Turkish, and Koordish, and even Armenian population were ready to obey any Englishmen sent to their assistance. Then, and at that moment, we might, without offending any prejudices, and without the least danger of any Pasha, Effendi, or Bey, daring even to hint a word of opposition, have raised a superb army which, without doubt, would have driven the Muscovite forces to the other side of the Caucasus.

Independently of interest, there are no European people so respected by the Ottomans as the English. Our gruff and surly manners to strangers, our habit of saying what we mean, and coming to the point at once without any prevarication, and our disinclination to give deferential salutations to ;people for whom we have no respect, are ail regarded by the Turks with the most profound admiration. 'They see in these peculiarities a reflection of that intense pride inherent in their own character...