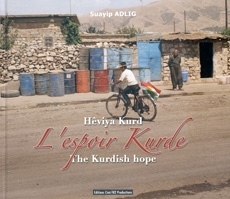 Hêviya kurd / L'espoir kurde / Kurdish hope
Çavkaniya jiyan û pêşveçûna gelekî,
di azadiya fêrbûna ziman, tarîx û çanda xwe de ye,
bo avakirina pêşeroja xwe û parastina mejûyê xwe.

La source de la survie et de l'épanouissement d'un peuple,
c'est d'avoir la liberté d'apprendre sa langue, son histoire et sa culture,
pour construire son avenir et conserver sa mémoire.

The cradle of survival and thriving of a community relies on benefiting
of the freedom to be taught ils own Ianguage, history and culture,
in order to build its future and préserve its memory.