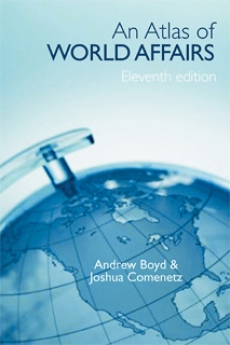 An Atlas of World Affairs
The economic, social and environmental systems of the world remain in turmoil. Recent years have seen possibly irrevocable change in the politics of Europe, Asia, Africa and Latin America.

Entirely revised and updated, the eleventh edition of An Atlas of World Affairs describes the people, factions and events that have shaped the modern world from the Second World War to the present day. International issues and conflicts are placed in their geographical contexts through the integration of nearly one hundred maps. The political context provided for current events will be invaluable to all those uncertain about the changing map of Europe and Africa, conflicts in the Middle East, and the appearances in the headlines and on our television screens of al-Qaeda, Chechnya, the Taliban, Mercosur, Somaliland, Kosovo, AIDS, OPEC and Schengenland. Critical new issues are covered, including the war on terrorism, nuclear proliferation, European Union expansion, and the pressing environmental concerns faced by many sovereign states. This edition provides guidance through all these recent changes (and many more)...