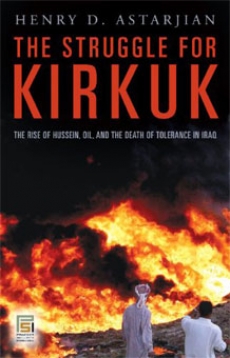 The struggle for Kirkuk

The Rise of Hussein, Oil, and the Death of Tolerance in Iraq
On occasion, when in doubt, I have double-checked dates and details with my childhood friend, Mardig Alexandrian of Munich, who, like me, lived under similar circumstances in Iraq. I am grateful for his input.

The late Gregory Avedikian read the early manuscript, made valuable suggestions, and encouraged me, for which I am grateful. Special thanks to William Straub M.D., who read the entire manuscript from the American reader's vantage point, and made valuable suggestions. Thanks also go to Brian O'Sullivan, Ph.D., whose input I value. Lisa Tener, an author in her own right, gave valuable advice and encouragement, for which I am grateful. I thank Tim Defaeo, a freelance writer, for educating me about the intricacies of the publishing world, and who advised me to have patience. Special thanks to Tatul Sonentz Papazian, a man of letters, for his unconditional support and encouragement from the outset.