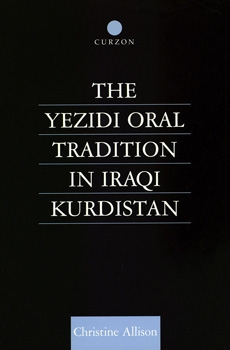 The Yezidi oral tradition in Iraqi Kurdistan

Christine Allison

Curzon

Christine Allison held a British Academy Postdoctoral Fellowship in the Department of the Near and Middle East, SOAS, University of London, and now teaches Kurdish at the Institut National des Langues et Civilisations Orientales (INALCO), Paris.


---

The Yezidi oral tradition in Iraqi Kurdistan

At a time when studies of Kurdish nation-building are developing, this book is the first to consider Kurdish oral traditions within their social context and explain their relevance for a large Kurdish community. It is the first western scholarly work to allow the Yezidis to describe themselves in their own words, and to interpret these descriptions. Many of the oral traditions in the book are previously unpublished, and may well die out in the next decade.

The Yezidis are a Kurdish-speaking religious minority, neither Muslim, Christian nor Jewish. Their ethnicity
has been disputed but most now claim Kurdish identity. Their heartland, including their holiest shrine, is in the Badinan province of Northern Iraq, and it is the communities in this area which are the main focus of this book. Their highly eclectic religion appears to contain many elements of `the religions of the book', especially Sufism, upon a foundation of ancient Iranian belief and practice.