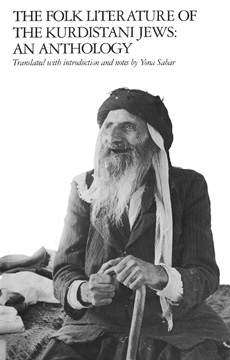 The folk literature of the Kurdistan Jews: an anthology

Yona Sabar

Yale University

The Aramaic-speaking Kurdistani Jews are members of an ancient Jewish community which, until its emigration to Israel, was one of the most isolated in the world. Throughout their long and turbulent history, these Jews maintained in oral form a wealth of Jewish literary traditions embellished with local folk-lore. This volume is the first translation and anthology of their richly imaginative literature.

Yona Sabar, himself a Kurdistani Jew, offers representative selections from the types of Kurdistani literature: epic re-creations of biblical stories, midrashic legends, folktales about local rabbis, moralistic anecdotes, folk songs, nursery rhymes, sayings, and proverbs. Sabar's introduction and notes are a storehouse of information on the history and spiritual life of the Kurdistani Jews and on their relationship to the Land of Israel.

Because almost all the Kurdistani Jews now live in Israel and speak Hebrew, there is very little new literary activity in their Neo-Aramaic dialects. This delightful anthology captures the essence of Kurdistani Jewish literature, presenting it for public enjoyment and preserving it for the future.

Yona Sabar is associate professor of Hebrew at the University of California at Los Angeles.