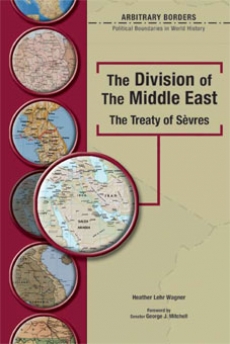 ARBITRARY BORDERS
Political Boundaries in World History

The Division of the Middle East
The Treaty of Sèvres
Ispent years working for peace in Northern Ireland and in the Middle East. I also made many visits to the Balkans during the long and violent conflict there.

Each of the three areas is unique; so is each conflict. But there are also some similarities: in each, there are differences over religion, national identity, and territory.

Deep religious differences that lead to murderous hostility are common in human history. Competing aspirations involving national identity are more recent occurrences, but often have been just as deadly.

Territorial disputes —two or more people claiming the same land— are as old as humankind. Almost without exception, such disputes have been a factor in recent conflicts. It is impossible to calculate the extent to which the demand for land—as opposed to religion, national identity, or other factors— figures in the motivation of people caught up in conflict. In my experience it is a substantial factor that has played a role in each of the three conflicts mentioned above...