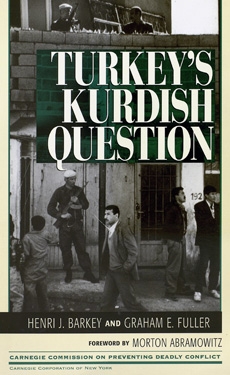 Turkey's Kurdish question

Henri J. Barkey,
Graham E. Fuller

Rowman & Littlefield

"Why should an examination of the Turkish case be of interest to a broader audience concerned with conflict prevention? There are, after all, a multiplicity of countries in the world with internal frictions also meriting attention. Turkey is of particular interest because it presents a fascinating range of issues that have considerable generic applicability to conflict situations in the rest of the world…

"The [Kurdish] problem is on the doorstep of the West, involving a close ally of the West and the single largest ethnic group in the world without a state of its own. Can the problem be solved within the existing borders of today's Turkey? The outcome of this crisis has major implications for much of the rest of the world."


---

Henri J. Barkey is associate professor of international relations at Lehigh University and has published extensively on Turkish affairs. He is the author of The State and the Industrialization Crisis in Turkey (Westview Press, 1990), and he edited The Politics of Economic Reform in the Middle East (St. Martin's, 1992) and The Reluctant Neighbor: Turkey's Role in the Middle East (USIP Press, 1996).

Graham E. Fuller is a senior political analyst at RAND and former vice chairman of the National Intelligence Council at the CIA. Mr. Fuller lived in Turkey for many years. He is a coauthor of Turkey's New Geopolitics (Westview Press, 1994), and his article "The Fate of the Kurds" appeared in Foreign Affairs (Spring 1993).