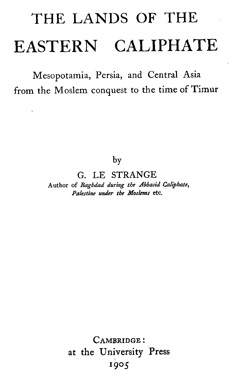 The lands of the Eastern Caliphate

G. Le Strange

Cambridge University Press

Mesopotamia and Persia, their provinces under the Abbasid Caliphs. The outlying provinces to the north-west and the north-east. The high roads from Baghdâd to the Moslem frontier. The Moslem geographers, and their works. Other authorities. Place-names in the Arabic, Turkish, and Persian provinces.

Mesopotamia and Persia had formed the kingdom of the Sassanian Chosroes, which the Arabs utterly overthrew when, after the death of Muhammad, they set forth to convert the world to Islam. Against the Byzantines, the other great power which the Moslems attacked, they achieved only a partial victory, taking possession, here and there, of rich provinces, notably of the coast lands to the south and east of the Mediterranean; but elsewhere the Emperors successfully withstood the Caliphs, and for many centuries continued to do so, the Roman empire in the end surviving the Caliphate by over two hundred years.
…..