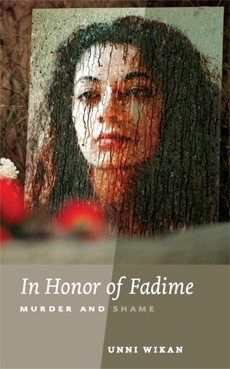 In Honor of Fadime

Unni Wikan

University of Chicago press

What drives a man to murder his child-for honor's sake?

What makes a mother testify in favor of a man who has murdered their child-for honor's sake?

You will come to understand, if I have managed to do what I endeavored: explain honor and honor killing. My motivating force was the murder of Fadime Sahindal in Uppsala, Sweden, on January 21, 2002. Fadime's fate left me no peace. Of Kurdish origin, she had lived in Sweden from the age of seven until her death at age twenty-five. A luminous example of courage and integrity, she had done more than anyone to warn against the failure of Sweden's integration policies in regard to persons like her parents. She had tried to make the nation understand that "honor"-as practiced in some communities-can be a deadly affair. She had warned that she might be killed for choosing her own love in life, Swedish-Iranian Patrik Lindesjö. But she was defeated when she least expected it-almost four years after the death threats against her had subsided.
.....

---

Unni Wikan is professor in the Department of Social Anthropology at the University of Oslo. She is the author of numerous books, including Behind the Veil in Arabia; Managing Turbulent Hearts; Tomorrow, God Willing; and Generous Betrayal—all published by the University of Chicago Press. In Honor of Fadime is a revised and extended, partly rewritten, version of her book For ærens skyld, which was first published in Norwegian in 2003.