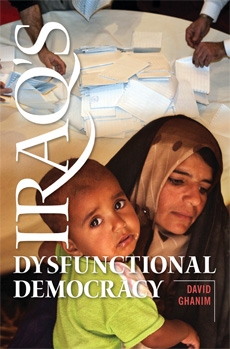 Iraq's dysfunctional democracy

David Ghanim

Praeger

Iraq has long been the main focus of international politics and media. It is unsurprising that there are many published works on the country. However, most of these works focus on the Iraq War in 2003 and the American occupation. Unfortunately, this comes at the expense of a more "internal" approach and analysis of the Iraqi experience per se. This project departs from the mainstream approach on Iraq and tries to fill a gap in the literature concerning this country. The purpose of this text is to study the situation in Iraq since 2003 and to investigate the credibility of the term "new Iraq," which has been used in discourses describing the new experience in the country. This book highlights how the old and the new interact, and how change and continuity interplay in this experience. The major concern of this treatise is to find out if the new experience in the country truly represents a serious interruption from the violent past of Iraq or just a new name to an old and well-established game. It intends to scrutinize the many contradictions of the new experience, if not the very myth of new Iraq.
.....
---

David Ghanim, PhD, is an independent scholar of Middle Eastern studies and gender studies. His published works include Praeger's Gender and Violence in the Middle East (2009). A native of Iraq, Ghanim holds his doctorate from the Corvinus University of Budapest in Hungary.