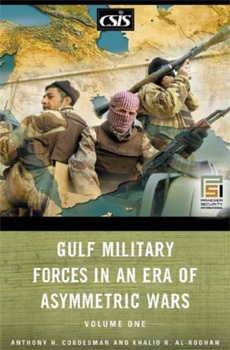 Gulf military forces in an era of asymmetric wars - 1

Anthony H. Cordesman
Khalid R. Al-Rodhan

CSIS

For most of the modern era, the internal security structure of the Gulf has been dominated by a ''four cornered'' balancing act between Iran, Iraq, Saudi Arabia, and the southern Gulf States.

Iran and Iraq have dominated the regional arms race, competing and sometimes fighting with each other. Saudi Arabia has sought to become a major regional military power in its own right, sometimes allied with the smaller Gulf States and sometimes divided from them by historical rivalries, Saudi ambitions, and various border disputes and claims. The southern Gulf States have sometimes been the target of Iranian and Iraqi ambitions, but have often concentrated on feuding with both Saudi Arabia and each other.

.....