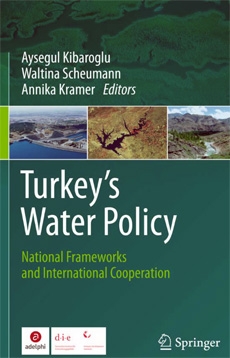 Turkey's Water Policy

Aysegul Kibaroglu
Annika Kramer
Waltina Scheumann

Springer

This book aims to contribute to understanding the broader picture of Turkish water policy. It is unique in the sense that it comprises a wide range of issues of water policy at national level (Part I) as well as an analysis of Turkey's international water policy beyond the prominent case of the Euphrates and Tigris river basins (Part II).

In the past, Turkey was frequently perceived as a strong upstream riparian that pursues huge water development projects without adequately taking the interests of water-scarce downstream riparians into account. Furthermore, Turkey's attitude towards the development and strengthening of international water law was assessed as being reserved at best, because of the country's reluctance to sign up to international water law. In order to get a full picture of Turkey's position in this regards, one has, however, to consider the national policies and framework conditions that impact water resources management.

.....