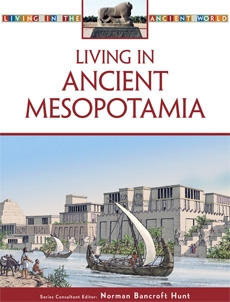 Living in Ancient Mesopotamia

Norman Bancroft Hunt

Thalamus

Landscape and Climate

Mesopotamia means "between the rivers," and is the name given to the narrow strip of land between the Tigris and Euphrates rivers. Mesopotamia forms the larger part of what historians call the "Fertile Crescent."

The Fertile Crescent is a semicircle of land stretching from the southeast coast of the Mediterranean Sea, around the Syrian Desert north of Arabia, to the Persian Gulf.

The ancient region of Mesopotamia covered what today is the north of Syria, the southeast of Turkey, most of central Iraq, and a small part of western Iran. The northern areas are dominated by steep hills through which the Euphrates and Tigris flow in deep channels. The southern region is a mix of marshy plain and desert.

.....