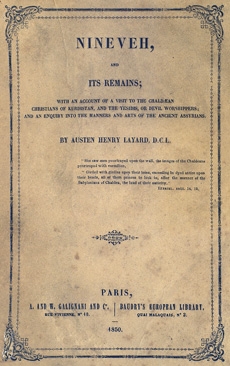 Nineveh, and its Remains

Austen Henry Layard

A. And W. Galignani and C°

It is difficult and frequently impossible, on the Continent, to procure New English works, while to obtain them from Paris the carriage is often greater than the price of the book itself, especially if sent out of France. By publishing in numbers, the most rapid and economical mode of conveyance is obtained that of the post, which, in addition, presents the great advantage of reaching the subscriber in the smallest towns, even where no bookseller resides.

The advantages of this Reprint, which is published in Octavo in two Columns large type, are Compactness, Cheapness, Portability, great saving in binding, arid, above all, the facility of transmission to all parts of the Continent at a very small charge for postage.

Every work is paged separately, so that the subscriber will be able to classify each work, and bind it accordingly.
Price of Subscription, free of .postage, to be paid in advance. Paris: three months, 13 fr.; six months, 25 fr.; twelve months, 50 fr. One franc extra per quarter I to receive it throughout France, and two out of France, except local Postage.

Thus, for from 50 fr. to 58 fr. a year, the subscriber will possess at least 50 volumes of the choicest works published in London in the course of the year, and which would cost at least Four to Five Hundred francs. To book-clubs, and foreigners acquainted with or studying English, this collection must also be highly valuable.

All subscriptions must date from the 1st January, 1st April, 1st July, or 1st October, by which arrangement subscribers will be certain of having none but complete works.