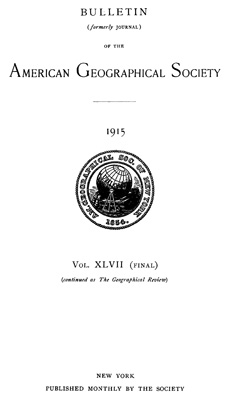 The peoples of northern and central Asiatic Turkey

Leon Dominian

American Geographical Society

The peoples and ideas emanating from within the realm which still bears the name of Turkey have left an indelible mark on the rest of the world. Crossed by some of the great highroads of history, the land is stirringly inspiring in every aspect in which it is beheld. Its heritage of memories and the prestige of a happier and grander past are undisturbed by touches of sad decline. The foundations of our progressive spirit were laid in that eastern region. It is the seat of our civilization and the cradle of our religion. From a purely scientific standpoint, its human grouping and surface configuration present highly interesting interdependence. This article will be confined mainly to a study of this relation. Grateful acknowledgment is made to Councilor Madison Grant for new views and important additions suggested during the revision of the proof.

.....