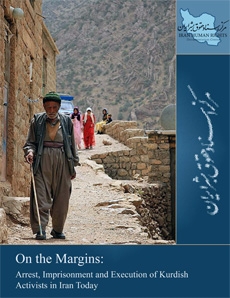 On the Margins: Arrest, Imprisonment and Execution of Kurdish Activists in Iran Today

IHRDC Mission

Iran Human Rights Documentation Center

In July 2006, Farzad Kamangar, a high school teacher in the city of Kamyaran in the Islamic Republic of Iran (IRI) and Kurdish rights activist, was arrested by IRI security forces. Following his arrest, Kamangar was held for nearly four years in various detention centers. During Kamangar's detention, he endured repeated instances of severe torture.

In a letter Kamangar wrote from prison, his suffering speaks for itself:

They took me to a room [where they questioned me]. When writing down my information [I had to disclose] my ethnicity, and every time I answered "Kurdish," they beat me with a whip that looked like some kind of hose. They also insulted me and beat me because of my religion. They beat me to their heart's desire because of the Kurdish music ...