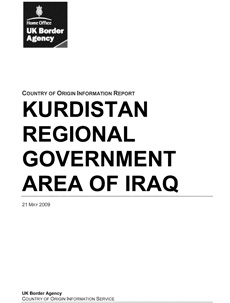 Kurdistan Regional Government

UK Border Agency

Compte d'auteur

This Country of Origin Information Report (COI Report) has been produced by COI Service, United Kingdom Border Agency (UKBA), for use by officials involved in the asylum/human rights determination process. The Report provides general background information about the issues most commonly raised in asylum/human rights claims made in the United Kingdom. The main body of the report includes information available up to 5 May 2009. The 'Latest News' section contains further brief information on events and reports accessed from 6 May to 20 May 2009. The report was issued on 21 May 2009.

ii The Report is compiled wholly from material produced by a wide range of recognised external information sources and does not contain any UKBA opinion or policy. All information ...