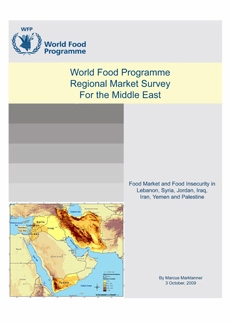 World Food Programme Regional Market Survey for the Middle East

Marcus Marktanner

WFP

This study analyzes the food markets of Jordan, Syria, Lebanon, Palestine, Iran, Iraq, and Yemen (ME-ODC Countries). These countries cover the Middle Eastern part of the area covered by the operational activities of the ODC, which also extends to North Africa and the Caucasus. Despite some similarities, such as adverse climatic conditions for agricultural production, the countries are generally very different and confronted with different problems. Each country therefore requires a substantial amount of separate treatment. The objective of the study is to better understand the dynamics of the food markets of these countries, particularly in light of the recent food price inflation. The findings shall help the World Food Program (WFP) to identify appropriate strategies for contingency planning, emergency preparedness, and the formulation of response policies.

1.2. Particular Challenges As many other economies, the countries of this study ...