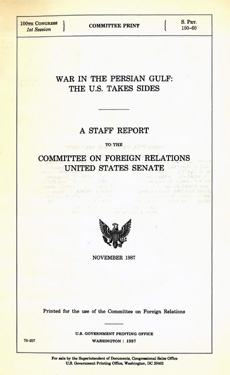 War in the Persian Gulf: the U.S. Takes Sides

Committee on Foreign Relations

Government Printing Office

Dear Mr. Chairman: At your direction, the staff of the Committee on Foreign Relations conducted a review of the present situation in the Persian Gulf. Toward that end, staff members visited Iraq, the Soviet Union, and all six of the nations on the western side of the Gulf. Staff also visited the United States Central Command in Florida, the headquarters of the Middle East Force in the Persian Gulf, and the U.S.S. Ranger task group in the Gulf of Oman.

The resulting report covers the range of Persian Gulf...