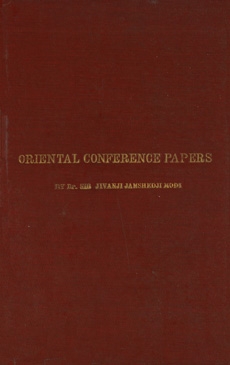 Oriental conference papers

Jivanji Jamshedji Modi

Fort Printing Press

I beg to thank you very much for electing me the President of this Fourth Oriental Conference. I had the; pleasure of attending all the three preceding conferences at Poona, Calcutta and Madras, and when I remember that those Conferences had, as their Presidents, scholars like the late Sir Bamakrishna Gopal Bhandarkar of Poona, Prof. Sylvain Levi of the Institute of France, and Dr. Ganganath Jha, the distinguished Vice-Chancellor of the University of this city where we have met, I feel honoured in being called upon, to sit on the chair worthily occupied by these eminent scholars. This honour of being chosen as the President, out of hundreds of capable scholars of the country—a country as great as a continent—is, as said ...