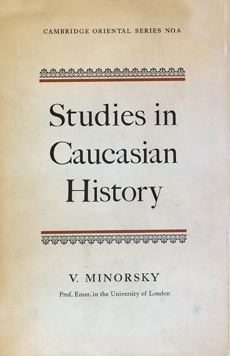 Cambridge Oriental Series n°6, Studies in Caucasian History

Vladimir Minorsky

Taylor's Foreign Press

The three studies collected in the volume are devoted to the 'Iranian Inter- mezzo' of the tenth-eleventh century, when numerous Iranian principalities sprang up throughout the Middle East, resulting in important repercussions in the Caucasian lands.
Using an unknown contemporary source, the author, in his first study, restores the history of the Kurdish Shaddadids of Ganja and elucidates their contacts with the Armenians, Georgians, Byzantines, Russians, and Turks (340/951-468/1075).
He next sums up the history of the later branch of the Shaddadids estab- lished at Ani, and finally traces the Kurdish origins of the family of Saladin, together with the role of the Iranian elements in the AyyUbid State and army.
The volume contains a map and some pages of Arabic text.
---

V Minorsky, Prof. Emer. in the University of London