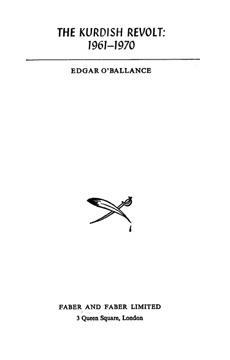 The Kurdish Revolt: 1961-1970

Edgar O'ballance

Faber and Faber Limited

The Kurdish tribes which inhabit the sprawling mountainous sector of territory lying amid the Middle East land mass that is roughly encompassed by the Black Sea, the Caspian Sea, the Persian Gulf and the Mediterranean, claim that they have lived there for over 4,000 years and that they arc of Aryan stock, probably descended from the Medes, who gained classical fame in ancient chronicles for their struggles against the Persians. Sturdy, warlike and of independent character, over the centuries they have never been assimilated by successive conquerors. Perhaps the Kurd in history best known to Western readers ...