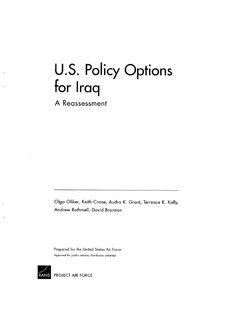 U.S. Policy Options for lraq

Olga Oliker
Keith Crane
Audra K. Grant
Terrence K. Kelly
Andrew Rathmell
David Brannan

Rand

Iraq is the most pressing foreign and security policy issue that the United States faces today. Continued failure to make Iraq stable and secure threatens to disrupt the Middle East not by catalyzing the spread of democracy but by exporting instability and conflict. If violence continues, Iraqi neighbours will use the country as a theatre in which to pursue their own goals, including those at odds with Iraqi and U.S. interests. Iraq will remain a training ground for terrorist groups, threatening U.S. and allied security. Continued conflict in Iraq not only will remain extraordinarily costly in terms of U.S. lives and resources, but will also damage the credibility of the United States and the efficacy of U.S. forces. It also feeds perceptions around the world that the United States is engaged in a "war on Islam."
The U.S. government needs to consider alternative ...