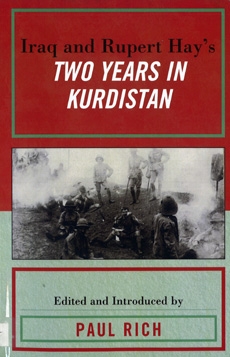 Two Years in Kurdistan

Paul Rich

Lexington Books

Detailing two years in the life of a British political officer charged with establishing and maintaining British rule in the Kurdish district of Arbil in Iraq, this personal account provides a thorough discussion of Kurdish society from the viewpoint of Captain William Rupert Hay. Chronicling the British government's desperate attempts to establish a civil administration in Iraq just after World War I, Iraq and Rupert Hay's Two Years in Kurdistan shows how, as a member of the Indian Political Service, Captain Hay attempted to bring Bxitish rule to his corner of Iraq.


---

Paul Rich is president of the Policy Studies Organization in Washington, D.C., and visiting fellow at the Hoover Institution, Stanford University. He was the head of supervisory programs for the Ministry of Education and Culture in Qatar for twelve years. Dr. Rich is a fellow of the Royal Historical Society, recipient of the Cameron Medal for social science research, and Life Governor of Harris Manchester College in the University of Oxford.