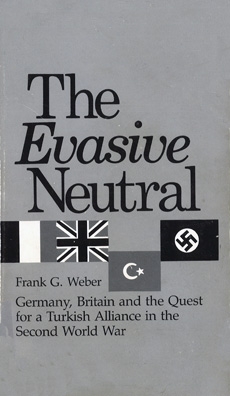 The Evasive Neutral

Frank G. Weber

University of Missouri

This is the story of Turkey's role in World War II. Although Turkey never fought in the war, Turkish diplomats were active behind the scenes. They succeeded in keeping Turkey intact, and, as Frank Weber's new book shows, they also damaged the war efforts of both Britain and Germany.

Before the war, the Turks allied themselves with Britain and France, but only because Germany had refused to deal with Turkey. Later, when the conflict spread to the Middle East, the Nazi government changed its mind, but by this time the price of Turkish support had risen. The Germans never obtained a Turkish alliance. But, in the meantime, the Turks, through their secret negotiations with Berlin, managed to erode Britain's credibility in the Middle East and to block Churchill's plan for a Balkan front.

Weber's research in British and German files makes it clear that Hitler's failure in the Middle East was due largely to Turkey's ambivalent foreign policy—a policy at least partly based, Weber concludes, on territorial acquisitiveness. Equally significant, in its own way, is his analysis of the diplomacy that kept Turkey out of the fighting. The Turkish government repeatedly considered aggressive alternatives. That these were rejected, Weber argues, was often the outcome not of shrewd deliberation but of sheer chance. Anyone interested in World War II or international diplomacy in general will enjoy Weber's lively account of a small power in a big war.
---

Frank G. Weber is Professor of History at Temple University, Philadelphia, Pennsylvania. He received his Ph.D. from Harvard University and is the author of Eagles On The Crescent: Germany, Austria, and the Diplomacy of the Turkish Alliance, 1914—1918 (Cornell University Press, 1970). Weber has also published several articles in scholarly journals.