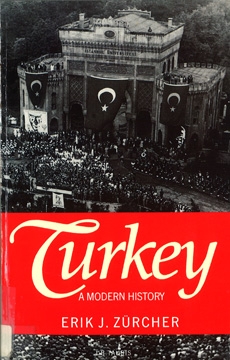 Turkey a Modern History

Erik J. Zürcher

I.B.Tauris & Co Ltd

'Zürcher's book will make an excellent textbook for students approaching the study of Turkey for the first time, in addition to serving as a valuable aid to scholars looking for a comprehensive, well-written fusion of differing interpretations of Turkish history ... This book is destined to remain a standard text in its field.' - International Affairs
... a very valuable book which should interest a wide readership ... as a textbook it meets a real need: there is no real rival.' - William Hale, School of Oriental and African Studies, University of London

'... exceptionally well-written and offering a perspective that is unique in the field of Turkish studies.' - Donald Quataert, State University of New York at Binghamton
The first comprehensive history to appear in twenty years, Erik J. Zürcher's book takes as its twin themes Turkey's continuing incorporation into the capitalist world and the modernization of the state and society in the face of this challenge.

Beginning by exploring the closer links with Europe forged in the period following the French Revolution, the book looks at the changing face of the Ottoman Empire in the nineteenth century. Arguing that Turkey's history between 1908 and 1950 should be seen as one continuous period, Zürcher goes on to offer a substantial and strongly revisionist interpretation of the influence of Turkey's 'founding father', Kemal Atatürk.

In its account of the period since 1950, the book focuses on the growth of mass politics; the three military coups; rapid industrialization and migration; the thorny issue of Turkey's human rights record; integration into the international global economy; the alliance with the West, and Turkey's ambivalent relations with the Middle East; the increasingly explosive Kurdish question; and the role of Islam.
---

Erik J. Zürcher is Professor of the Modern History of the Ottoman Empire and Turkey at the University of Amsterdam.