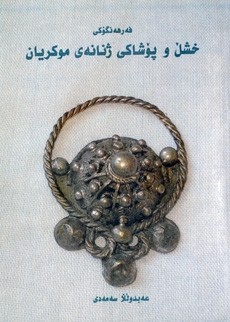 Ferhengî xișil û poșakî jinaneyî Mukriyan

Ebdula Semedî

Compte d'auteur

Salî 1381 bîblografiyayekî ferhenge Kurdiyekanman belaw kirdewe ke basî 292 ferhengî wișey girtewe. Le maweyî em yazde saleș da, bêguman jmareyekî berçaw ferhengî kurdî, le ser em lîsteye ziyad kirawe.

Sererayî rêzdanan bo hewl û mandûbûnî dilsozaneyî hemû ew kesaney ke lem biware beneretîyeda karyan kirdûwe, belam radeyî girêkereweyî ferhengekanman cêgeyî pirsyare cige le kemûkurî û natewaw, renge eger ristegelî "core golêke / core giyayeke / core xișlêkî jinaneye / core amarazêke / core balindeyêke / ..." Le ferhenge benawbangekanman derbawêyin, her ew wișe ...


---

When talking about Kurdish costume, one single image which covers entire Kurdistan region should be prevented. There is a considerable variation based on geographical location and in accordance with peoples life style all across this vast area. The variation is more obvious in female costumes compared to the male ones. There should be more energy devoted to research and understanding used terminology in Kurdish clothing by the professionals in general and particular aspects, which is unfortunately neglected presently

The main endeavour. in this paper was to prepare a glossary devoted to Kurdish female jewellery and costumes of Mokryian area considering Mahabad as the focal point. If researchers in other Kurdish region follow simile footstep the dream of Kurdish "costume encyclopaedia" will come true.