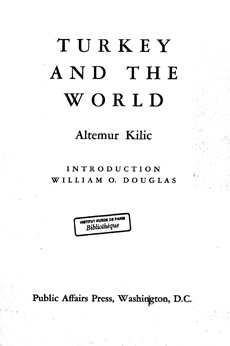 Turkey and the World

Altemur Kilic

Public Affairs Press

Events almost daily re-emphasize the importance of the vast and perpetually enigmatic region called the Middle East. Unlike other important regions of bygone eras, this ancient cradle of civilizations and wars continues to be strife-tom and is a focal point in the global struggle of our day.

The Middle East is the natural passageway between three continents; Asia, Europe, and Africa. It has enormous economic potentialities. Having served as the source of great civilizations, cultures, and religions, it is still psychologically and socially receptive to new ideas. Therefore it is a sensitive spot for all humanity.

The Middle East today has rich oil deposits—approximately two-thirds of the known oil reserves of the free world. Although Western Europe might not be entirely dependent on these reserves on a shortterm basis, its increasing needs for fuel make the oil of the Middle East essential for the next few decades.
.....
---

Altemur Kilic was born in Ankara, Turkey, in 1924. After studying at Robert College in Istanbul he received his MA. degree in Social Sciences from the New School of Social Research, New York, in 1951.

Following his graduation from college in 1944 he began his career as a reporter on the Istanbul Vatan and soon rose to the post of foreign editor. Subsequently he worked for the Associated Press in Ankara, as a consultant for Radio Free Europe in Istanbul, and as a press officer for the United Nations in New York. In 1952 he served as a reserve lieutenant with the Turkish Brigade in Korea, acting as its Public Information Officer. Since 1955, he has been Press Attaché of the Turkish Embassy in Washington, D.C.