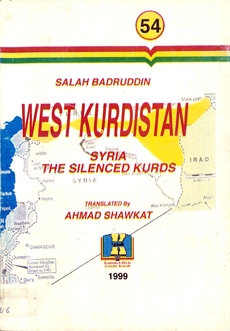 West Kurdistan, Syria the Silenced Kurds

Salah Badruddin

Kombenda Kawa

The complete historical and political text which had beers offered by Mr. Salah Badruddin to Hamburg Orientalism institution about Kurds, their national case and national movement in the western part of Kurdistan, northeast of Syria.

Kurds are an ancient people lived in the west of Asia. They appeared since the history started writing the movement of the first human races in this region, historians assure that numerous beings entities had appeared and found by ancient Kurds in 2500 B. C Many other peoples and races passed through Kurdish region, e.g. Assyrian, Sponio, Kurdokh, Krano, Persian, Romanian Empires and the early Arab Islamic conquerors.

The first Kurdish government established in Media in 550 B. C. which had been crashed by the Persian Empire Korsh, therefore Kurds started forming several emirates until the number of these emirates reached about 32 at the beginning of the Islamic conquers.

Ancient Romanians started writing about a people called Kurds - living in a region called Kurdistan - since 400 B. C. as it is mentioned in the book of the famous Zinophone, There is no doubt that the important era ...