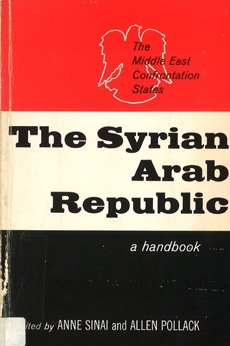 The Syrian Arab Republic

Anne Sinai
Allen Pollack

AAAPME

The American Academic Association for Peace in the Middle East is a non-profit, non-sectarian association of U.S. academicians who are concerned with the issues of the Arab - Israel conflict in all their ramifications. The Association attempts to utilize the best talents in the American academic community to stimulate, through analysis and research, new ideas and approaches to an Arab - Israeli rapprochement toward the attainment of a just and lasting peace in the Middle East. In addition to its sponsorship of full-length studies, AAAPME also publishes a quarterly journal, Middle East Review. AAAPME publications are read and used by academicians, Middle East specialists and students as text, source, background and research material.
---

Allen Pollack is a member of the Department of History at Yeshiva University.
Anne Sinai is the editor of Middle East Review.