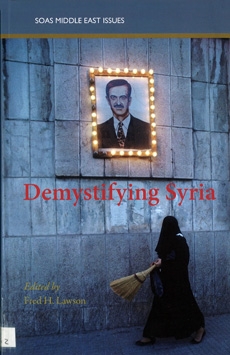 Demystifying Syria

Fred H. Lawson

Saqi

Syria stands at the centre of contemporary Middle Eastern affairs but remains poorly understood. Recent writing has focused on the intentions and objectives of the political leadership in Damascus, yet there are severe constraints on what senior policy-makers can actually do.

This collection presents new research conducted by the contributors on aspects of Syrian politics, economics and diplomacy that are too often ignored. Essays on the shifting relations between the Ba'th party and the armed forces, burgeoning private enterprise and the dramatic Turkish—Syrian detente will prove essential reading for anyone with an interest in this pivotal and assertive Middle Eastern state.

Contributors include Bassam Haddad, Souhail Belhadj, Baudoin Dupret, Zohair Ghazzal, Thomas Pierret, Salwa Ismail, Joshua Landis and Joe Pace.


---

Fred H. Lawson is Rice Professor of Government at Mills College, where he teaches international relations and Middle East politics. He first visited Syria in 1979, and later spent a year at the University of Aleppo as a Fu right Lecturer in International Relations.