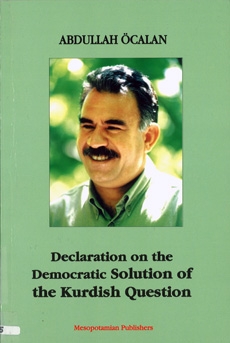 Declaration on the Democratic Solution of the Kurdish Question

Abdullah Öcalan

Mesopotamian Publishers


"I reject the charges of treason. I firmly believe that my fight was for free life and unity. I did not struggle against the Republic, but for Democratic Republic. I hope this problem, which was aggravated by historic mistakes, will be resolved. I want my trial to contribute to the solution. I reiterate my calls and commitment for a just and dignified peace and brotherhood based on a democratic republic. I call on the State, social forces and Humanity to assume their responsibilities. I believe the future for Turkey lies in peace, not in war.
With my regards"